Part I
Today we have some gifs to present you courtesy of our man Giorgos Kourtis, as well as some analysis courtesy of me. This is Part I, just covering the final 5-or-so minutes of the 4th quarter. In the coming days I'll take a look at the overtime period, as well as discussing some of the key players not covered in Part I, and their roles in this particular game.
One thing I'd like to point out to start, because it's been an issue a number of times this season (and in past seasons, for that matter) for CSKA — defensive issues due to personnel. Against capable teams, it's just hard to hide someone like James Augustine. A number of players had a field day against the CSKA big man after he was forced to switch onto them (often in pick-and-roll, sometimes in show-on-pindown-type situations). Here's KC Rivers strolling to the basket:
And it should be said that this was one of Augustine's better efforts. Credit here, as well, to Gist for the screen — Aaron Jackson got all hung up, and he's normally solid (often better-than-solid) on the footwork front. Credit, too, to Rivers for that nice around-the-back, but you have to know he's trying to get to his left hand if you're guarding him.
Allow me a brief aside on Gist, by the way: his numbers don't look great for this game (perhaps not even good), but he made his presence felt. I have been and continue to be a big Gist fan, and I'll take this time now to point out that, according to overbasket.com, he had the game-high in raw plus/minus. He and Rivers were the only two players on either team in double digits: Gist +12, Rivers +10. I'm by no means a fan of raw plus/minus (and I have my suspicions even about adjusted), but right now I'm all about that pro-Gist propaganda.
Here's a similar situation to the one in which Rivers scored, but with Mike James handling the ball.
Jackson gets through the screen better this time, Augustine corrals James a bit (no easy task)…but he still leaves something to be desired. Augustine's arms are down, he's clearly in a non-aggressive (read: backpedaling hard) posture — in general, no one is intimidated when they notice Augustine near the basket on the defensive end.
To turn attention away from the bigs, when you have guys like Teodosić out on the perimeter rather than an Aaron Jackson-type defender, things can get rough. Here's a key transition basket scored by Pappas. Teo is absolutely left in the dust, and believe me (though if you're reading this site, you probably don't need to be told) he rarely looks much better in halfcourt.
Most of Bourousis's defensive errors (at least according to my notes) came in the 1st half, but all of my criticisms of Augustine also apply to Bourousis on the defensive end for Panathinaikos. Slow feet, poor use of length…probably a greater propensity to foul than Augustine, which isn't ideal. The Big Greek™ escapes gif-wrath due to not having had an impact in the final minutes of the game, however. Just wanted to explain the double-standard.
With some of the defensive keys harped-on, I'll come out and say that CSKA's defense could have been much worse. They gave up about 101 points/100 possessions in this game. PAO averages about 109/100 this season (I don't have home vs. away numbers, but one presumes their offensive efficiency is better at home, so keep that in mind), and CSKA gives-up about 106.6 on average (again, keep an estimated home vs. away adjustment in mind) — this via RealGM's stats pages, in which I'm placing some (perhaps partially blind) faith. Anyway, the point is, good overall defense or not, you see how PAO managed some key late baskets. It wasn't exactly tough sledding on a number of possessions.
Now for the CSKA offense. Over the course of the season, it has been Real Madrid and CSKA's offenses leading the pack, then everyone else…and then Red Star and Barcelona trailing well behind, but that's a story for another time. Obviously we know PAO had a poor offensive showing in a win, so that means CSKA was (at least slightly) worse. The following exchange gives us a decent idea of how uneven swings in this game could be, from the perspective of offensive opportunities/decision-making, as well as defensive intensity.
You can witness in the above clip a rare case of James Augustine playing effective defense, though it's more appropriate to question Mike James for not going right around him and rather playing with the ball before opting for a stepback. But hold on, because Mike James makes-up for that blunder by stopping Aaron Jackson's (seemingly wide-open) fastbreak layup attempt. Maybe there was a foul (the angle we have shows nothing), plus with a little luck Augustine could have had a putback there. But this type of play happened over and over, for both sides. CSKA's turnover troubles (PAO contained De Colo and Teodosić about as nicely as you can hope for: De Colo had 5 turnovers, Teodosić had 4, although a number of them were hardly forced) often hurt them on offense, but at least didn't turn into PAO points because — despite that earlier clip of Teo's embarrassing effort against Pappas — the Armeitsy hustled back to stop easy baskets with near-playoff intensity. Same goes for PAO, with Mike James serving as their spirit animal in the above clip.
Playoff intensity aside, there was plenty of ugly in this game.
CSKA left a number of points off the scoreboard from plays like that one — a capable shooter misses a good look, someone (Vorontsevich in this case) makes a good extra-effort play…and a turnover results almost out of nowhere. No doubt, PAO didn't just give De Colo a layup line-type look on that drive, but that turnover is one awkward piece of work.
Speaking of Vorontsevich, his missed open looks have to be looked at as a key reason for the poor CSKA offensive performance. At the end of the 1st half, he was 4/7 for 10 points (2/5 on three-pointers). In the 2nd half, he was 0/4 from three-point range and 2/4 on two-pointers. There was a lot of this:
And not nearly enough of this…
…even after he started hesitating on threes after having missed a few. Granted, this drive resulted in a really tough make (again, PAO doesn't make it easy for anyone), but attacking close-outs to dish or draw fouls is your only option if you've gone cold.
Now, regulation ended with a series of blunders (or wonders, depending on your perspective), fitting for the up-and-down quality of play in this match-up. CSKA chose to foul while up 2 with approximately 25 seconds on the clock. Not a bad option considering they picked Nick Calathes as their target — a sub-50% foul shooter over the course of this season. He made both of them. Then he pressured De Colo into carrying the ball on the next possession, where CSKA didn't even get over midcourt. That was followed by this combination of dubious play-calling (I never like a near-midcourt handoff play, especially not late when refs aren't likely to call even serious contact), and great pressure from Hines and (I believe) Higgins.
Sadly, all CSKA managed after this play was a Miloš turnover due in part to a just-okay Panathinaikos trap — he tried a tough dish on a side pick-and-roll, Gist (credited with the steal) missed a 3 from halfcourt, and to overtime we went.
Having seen CSKA play better (on offense at least) and take down Olympiakos in Moscow, we reconvene. We've also seen handle hapless Maccabi in Tel Aviv. However, I'm still not done talking about the performances we saw in the PAO-CSKA match-up.
I was hard on James Augustine last time around, so let's see some of the good he did, again in gif form:
Augustine scored 14 points on 7/12 shooting on the day, cutting to the basket, finding space, finishing easy looks. Good stuff, unlike the defense.
On the other hand, the Greeks had Gist out there at the PF/C spot (I mentioned his excellent plus/minus in Part I). How'd he do his job?
Late in the game, he did the dirty work, stumbling into extra possessions like this:
…and more importantly, grabbing a dunk every now-and-again like so:
KC Rivers was 3/6 from three-point range in the game. We saw how he slashed to the basket in Part I, but here's one of his threes.
But you don't get a close game in the fourth quarter/overtime without having good players doing their jobs early in the game.
Viktor Khryapa does the little things whenever he's on the court. He had a mixed-bag in the first half, and here's a sample of how he tries to make plays despite poor shooting this season (only 17% three-point shooting this season in Euroleague):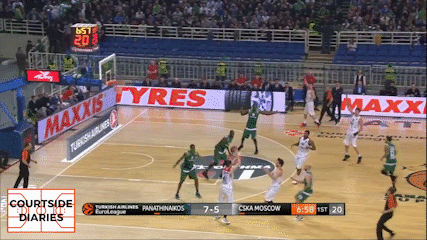 There are turnovers that happen, undoubtedly, for every few nice Khryapa feeds like that one, but the man really illustrates what basketball professionalism is — that means on defense, too.
One of the main differences between CSKA's recent narrow win against OLY and their narrow loss against PAO was just shooting. Milos still played bad defense (like this: https://giphy.com/gifs/xUA7aZ04FghzfmLJsY) and he still had too many turnovers (8). But he and De Colo both managed to knock in some three-pointers (they were a combined 5/12, the team as a whole was 8/19). The threes mean there's more room in the lane, which means more drives, and more fouls (and OLY is every bit the defensive team PAO is, maybe better, but it's always tougher when you're not playing in Greece). When you've got two really good teams facing each other down, long-range shooting normally seems to settle things. Occasionally there might be a one-on-one match-up nightmare that does his damage in transition or in isolation, but even with De Colo/Teodosić types, teams can figure out how to stop their pick-and-roll attack…if no one is spacing the floor.
So, that's all for Part II. We'll be back hopefully doing some gifnalysis (or, if we have the time, something still a little more in-depth) after the first round of playoff games.